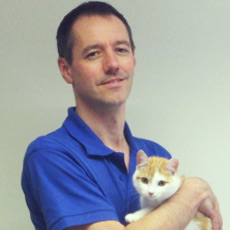 Laurence is the director and lead Veterinary Surgeon of Midsomer Veterinary Centre. He has lived in Midsomer Norton since he qualified from Bristol University in 1996. He joined the practice in 2000 as an employee and became the owner in 2014.
He is a familiar face and enjoys getting to know his patients and clients well, some of whom he has known for over 20 years. Laurence is keen on all aspects of veterinary work and is committed to continually developing the care that Midsomer Veterinary Centre gives to our patients.
In his spare time, Laurence enjoys the outdoor life – rock climbing, walking and camping trips – plus listening to and making music with more enthusiasm than talent!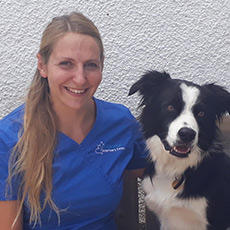 Stella McLachlan
BVSc MRCVS
Stella originates from Northern Ireland and studied Veterinary Science at Bristol University, qualifying in 2017.
Following her graduation Stella worked in practice in Wolverhampton but always wanted to return to the West Country.
She joined the practice in March 2018 and has become highly popular with our clients. Stella enjoys both medicine and surgery and has developed a keen interest in ultrasound.
Her fiancé is a pilot with British Airways. In her spare time Stella takes part in riding competitions on her horse Campbell. Stella also cares for her two miniature ponies, border collie Enzo and springer spaniel Daisy.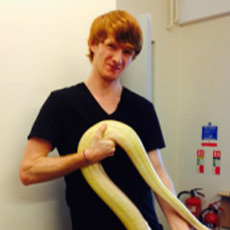 Luke joined the practice in January 2014 to help with maternity cover and settled in so well that we asked him to stay with us permanently!
He completed his Animal Care BTEC Diploma at Norton Radstock college in 2013 and has an interest in exotic pets He keeps, breeds & shows snakes, geckos & other reptiles. Luke is happy to give management advice on the care of exotic pets.
Luke lives locally with his partner Lucy and their two young children.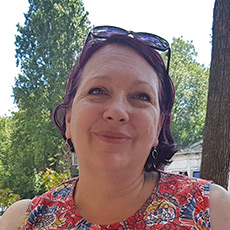 Sam is our Practice Manager and Director of the business alongside Laurence
Sam started work as a Veterinary Nurse in the 1990s, where she met Laurence just after he qualified. They became married in 2000. After taking time out to raise their two children, Sam joined the practice and became a director in 2016.
Sam is enthusiastic about continually improving the care and communication that we have with our clients as well as looking after our own team members so give the best care that we can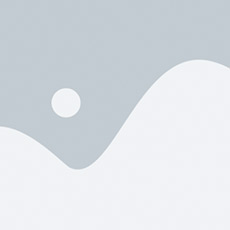 Paula is our Administrator she brings a wealth of experience, having previously worked as demanding roles including in special needs services in local education.
Although she may not be visible to clients that often, she is the backbone of the practice, helping everything to run smoothly.
Paula lives locally with her partner and her Scottish Terrier Maggie, who also comes to work with Paula.